Celebrating Holidays with Your Children, Post Divorce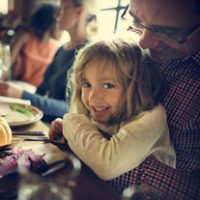 As we get closer into the holiday season, as family law attorneys, we hear a lot of concerns about how the holidays can be especially challenging for families during and/or after divorce. Many questions we receive are focused on how one should interact with one's ex during the holidays post-divorce, as well as what will be best for the children.
This year, in particular, many couples are rushing to get their divorces finalized during the holidays because the alimony deduction is disappearing at the end of 2018, and this can introduce even more worry and panic into the situation.
Below, we've provided a few tips on how to minimize some of the concern and confusion that can surround families, kids, and divorce during the holidays:
Try To Hold Onto Structure & Traditions
In general, the more structure children have in their lives after divorce, the less likely they will experience confusion and concern. This applies to how you, as parents, handle the holidays as well. According to the experts, it is best not to try and behave "as you used to" for the holidays, because that can sometimes lead children to incorrectly believe that their parents are getting back together. Instead, create a plan, and discuss what the plan is with children well in advance so that they know what to expect.
It can be a challenging balance to strike—having to keep things as "normal" as you can—while also acknowledging that things are, in fact, different after divorce. After the first year after divorce—when children are likely experiencing the most uncertainty—it can be helpful to hold onto some of those staple family "traditions." As more time passes, there should also be efforts to incorporate new traditions.
Specifically, here are some tips that the experts recommend during the holidays:
Do not take out your anger against your ex in front of your children;
Avoid overcompensating for guilt over the divorce by buying more and more presents;
Consult with the other parent about holiday plans;
Be careful about introducing a new relationship into your kids' lives at that time; and
Be careful about having "adult" conversations with your kids about the divorce. As mature as they may seem, it places them in a difficult position.
Keep in mind that, when two people divorce, this doesn't just affect that immediate family, but others in their network—friends, grandparents, uncles, aunts, etc. This, too, affects the holidays and your kids' experiences during the holidays.
Contact Our Florida Divorce Attorneys to Find Out More
Our Fort Lauderdale divorce attorneys have helped many families get through divorce during the holidays, which can be a difficult time for everyone. Contact us at Trachman & Ballot-Lena, P.A. today to find out how we can help you.
Resource:
blogs.psychcentral.com/relationship-corner/2018/11/celebrating-the-holidays-post-divorce-12-tips/