The Rise of the "Gray Divorce"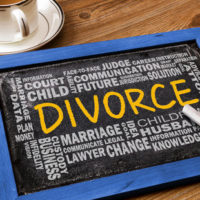 Just in the last 25 years, the divorce rate for Americans over the age of 50 (known as a" gray divorce") has more than doubled, and more than half of these couples have been married for more than 20 years. This now equates to one out of every four people divorcing. This is a huge shift from 1990, when fewer than one out of 10 people getting divorced were older. So why is this suddenly the case?
These couples aren't necessarily separating because they suddenly find each other dull, or due to infidelity, but rather that they have simply grown apart and want to go it alone. A number of couples stay together, unhappily, for years, assuming that this is what's best for their children, and then finally realize they cannot be unhappy any longer. Many likely expect more happiness and fulfillment today than they did 30 years ago.
Why Now?
A number of other factors are likely at work here as well, for example:
The stigma of divorce is disappearing over time;
People are living longer, and thus the idea of remaining in an unhappy relationship is more daunting;
Women are making more economic gains, and no longer necessarily having to choose between a bad marriage and living in poverty;
Online dating is becoming more and more popular, providing many with the prospect of finding a better match; and
Seniors are not only living longer, but engaging in more activities, such as travel.
Specific Financial Considerations for Divorce Late In Life
Still, divorcing later in life carries with it a number of additional financial considerations, as couples tend to have more assets and more in their retirement accounts. In addition, the following should be taken into account, at a minimum:
The potential to award alimony only increases for marriages that last 10 years or more. In some circumstances, alimony is granted for life for long-term marriages;
Retirement funds are typically cut in half, however, before negotiations are made to offset retirement money with alimony, etc., make sure that you consult with an experienced divorce attorney and ensure that you understand all of the various tax implications of any and all these decisions;
One of the most important assets we regularly counsel our clients going through divorce on is the family home. You must speak, at length, with your attorney as to whether it is financially-viable to hold onto the family home before deciding to do so; and
Before you consider remarrying, consider entering into a prenuptial agreement, as you will likely have even more financial issues to address at that point.
Contact Our Florida Divorce Attorneys to Find Out More
When it comes to divorcing late in life, it is crucial that you consult with an experienced attorney so that you and your assets are protected. Contact our Florida divorce attorneys at Trachman & Ballot-Lena, P.A. today to find out more about our services.
kiplinger.com/article/retirement/T065-C032-S014-the-rise-of-gray-divorce-why-and-why-not.html