Planning For a Successful School Year after Divorce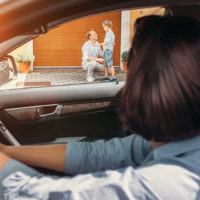 As we approach the fall and children are starting up school again, many parents are understandably focused on a number of important issues in their lives: dealing with any apprehension associated with grade transitions, new friends, school supplies, extra-curricular activities, etc. Parents who are now divorced are sometimes also concerned that they will encounter unforeseeable, additional challenges in planning for a successful school year after divorce.
Whether children live in one household or two, sitting down with your kids and discussing what goals all of you have and what challenges they may encounter can be helpful so that they are clear on what is most important. This can be done in conjunction either with your ex or separately with each parent, as we discuss below.
New Expenses & Responsible Financial Planning
Each new school year typically brings new, unforeseen expenses. While child support is meant to cover basic incidentals, clothing, food, shelter, etc., the question of who is going to cover new costs for the child's school year can sometimes cause tension between divorced parents.
Remember that it can be a good idea to include children in these discussions, raising the possibility of helping with these costs through babysitting or other jobs, in an effort to teach them the importance of financial independence and responsibility. Instilling these positive habits while they are still at home with you can prevent disasters later on when they are on their own.
Planning Ahead & Taking Initiative
A similar lesson can also be applied to the logistics of participating in activities and events. A new school year can also present a new opportunity to teach kids about how taking care of registrations and projects as early as possible can minimize stress and even save money. This also presents an opportunity to develop reasonable standards regarding what can and cannot be participated in terms of realistic schedules and making sure children can not only meet their obligations, but also keep track of their long-term goals (for example, is it possible to play soccer every day after school while also getting all homework done and studying for the SATs that year). Some parents find that certain shared family calendar programs like "Our Family Wizard" or "Google Calendar" works, or even apps such as "Onenote" or "Evernote," as family members can simultaneously and constantly adjust the information within them at any given time.
Unavoidable Coordination with Your Ex
Note that you and your ex are going to have to review the official school calendar for the year at some point in order to plan for days off, early dismissals, important events, etc. The same policy applies to homework as well–it is helpful for both of you to be clear on shared expectations surrounding schoolwork, and if that is not possible, making sure that your children can control their own work habits – regardless of which household they are in – can be very helpful. 
Chat With a Florida Divorce Lawyer
If you have concerns about transitions associated with divorce and ensuring that you and your family are taken care of, contact our experienced Fort Lauderdale, Florida family law attorneys at Trachman & Ballot-Lena, P.A. today to find out how we can help.
Resource:
forbes.com/sites/heatherlocus/2018/08/26/how-to-plan-ahead-for-a-successful-school-year-after-divorce/#2946cd7a5ec4